Hinopak keeps inventory of spare parts at its Karachi and Multan warehouse and also at its dealerships to ensure timely parts availability and reduce supply lead time to customers' in order to keep the vehicles on road without any disruption.
Hino Genuine Parts have been designed and tested to meet high quality, safety, standards and provide the best performance to Hino trucks & buses. These parts are highly recommended for Hino vehicles.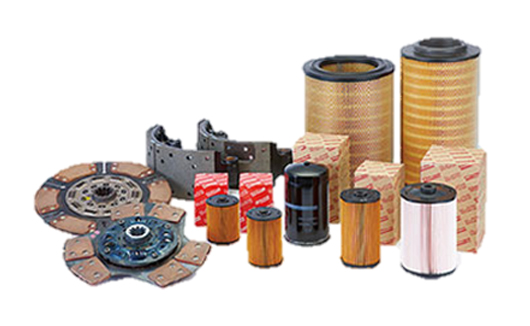 Hino smart choice category offers following parts:
Filters
Clutch Plates
Brake Lining
Torque Road Bush
Hinopak offers ECO filters which are a source of cost efficiency with better performance comparing with after market filters. These filters are manufactured in collaboration with Guard filters considering the Hino quality standards. This category is introduced keeping in view customers' demand of cost efficient maintenance parts.
Hino Genuine Oil are made from best base oil and high quality additives which are suitable in all heavy duty operation and enhance operational life of vehicles. Use of these oils will protect Hino vehicle from substandard oil.
Hino Genuine Oils are available in 4L, 10L & 208L packing which will cover a need of individual customer and workshop requirement.
Under Hino Genuine Oil, we offer three types of oil to our customers.
Engine Oil 20W 50
Differential Oil 85W 140
Transmission Oil 85W 90
Hino Gold Premium Engine Oil
Hino Gold Oil uplifts the bar of existing diesel engine oils in the market. Using exclusive chemistry, Hino Gold Oil helps significantly increase the interval for oil change. Its advance deposit control technology cleans the engine to enhance engine life.
Hino gold oil is blended with carefully selected highest quality base stocks, giving better protection to your engine, reduces oil consumption, thus cutting down the repair costs and increasing profitability. Its special addictive formulation enhances engine performance.